Salmon Poached in Coconut Milk
August 10th, 2012
Salmon Poached in Coconut Milk
Written by:
Bill
Published on August 10th, 2012 @ 02:50:00 pm , using 217 words, 91286 views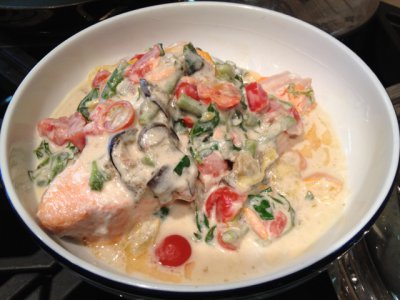 When I saw the fresh, glistening king salmon fillets from Bodega Bay in the Oliver's Market fish counter, I just had to buy a couple of pounds even though I was there just to buy appetizers. The $9/lb special price sealed the deal. With family out of town, I invited my CIA-trained sister to join me in concocting a dish from the fillets. First, I grabbed a basket and headed into the garden where I found a majority of the ingredients we used. Thankfully, the salmon have returned to the coast of California and it's summer here once again.
Ingredients
2    10-oz slices of salmon, cut across a fillet 1.5" thick, pin bones removed2    small Machinaw eggplant (6" long, 1/2" - 1" diameter)3/4 c. green beans (mix of Trail of Tears, haricot verts, Kentucky Wonder)3/4 c.    cherry tomatoes, halved2-3    diced shallots3 cloves garlic, minced1 can coconut milk1c. chopped basil leaves1/8 c. chopped spearmint leavesolive oil1/8 c. fish sauce
Preparation
Saute the eggplant slices in olive oil until lightly browned, remove from pan. Saute shallots and garlic until soft. Place fish fillets in pan, skin side down. Add eggplant, beans and distribute beside fish. Pour coconut milk over everything, add fish sauce, cover and simmer for ~10 minutes. Add basil, mint, and tomatoes. Cover and simmer another 5 minutes. Adjust with salt and pepper as desired.

Permalink
1 comment
You and your CIA sister have really done it this time. Wish I were there to shsare.
Mom
08/13/12 @ 11:17
This post has 98420 feedbacks awaiting moderation...
Comment feed for this post