December 3rd, 2009
Welcome Foodies!
Written by:
Bill
Published on December 3rd, 2009 @ 04:42:24 pm , using 77 words, 48515 views
Posted in
We are lucky to live in California! Year round, we have an incredible bounty of fresh, nutritious raw ingredients to eat right off the vine or to craft into sumptuous dishes to serve at the table. This blog is an outlet for us to share with you readers the enchanting experience we have day to day in our kitchen and garden. Not to mention a draw from the collection of our home-made Dragon Crest wine. Bon Appetit!

Permalink
October 28th, 2014
Written by:
Bill
Published on October 28th, 2014 @ 11:35:00 pm , using 82 words, 23677 views
My sister Martha is a Culinary Institute of America trained professional chef. Try living in that shadow and posting a food blog...
She has instructed me of three key 3-somes. For all our benefit, here they are:
HOLY TRINITY --- Cajun cooking
- Celery, onion, green bell peppers
SOFFRITO --- Mexican cooking
- Onions, green bell peppers, cilantro, garlic
MIRAPOIX --- French cooking
- Onion, celery, carrots
Let's all respect her culinary talents, and not just go through the vegetable drawer tossing in whatever is in there, okay?
January 25th, 2014
Written by:
Bill
Published on January 25th, 2014 @ 12:42:00 pm , using 670 words, 82502 views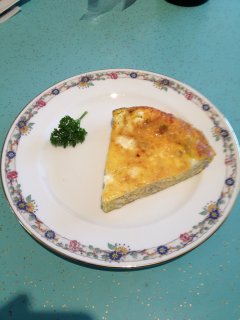 Since enjoying this traditional Spanish tapas favorite on my honeymoon 25 years ago, I've been making it at home a few times a year. The rich flavor of the finished product disguises the simple list of ingredients it contains. It's all in the way you cook it, which is a bit tricky.
Ingredients
2 large russet potatoes, peeled and sliced with 3mm blade in a food processor
1 large yellow or Spanish onion, sliced with a 1mm blade
5 eggs
olive oil
Kosher salt
Preparation
Heat a 12" cast iron skillet half-filled with olive oil. In alternating layers, add potato and onion slices. Sprinkle a little Kosher salt over each layer. You'll get about 3 layers of potatoes and two layers of onions. You'll know the temperature is right if the the potatoes/onions are just bubbling a little. Too hot and they'll brown, which you don't want. Very carefully with a large spatula, turn the layers to avoid browning. Cooking is done when the potatoes are still a little firm so they won't fall apart when removed from the pan. 
Place a smooth collander (not a wire one) over a large bowl and carefully pour in the skillet's contents. You'll want to reserve the olive oil for the next time you make a tortilla; it gets richer in flavor over many uses (make sure you never got it to smoking temperature). While the potatoes and onions are draining, mix 5 eggs in a large bowl. Let the potatoes cool for 10-15 minutes so they're still hot but won't burn your hands. Gently pour them into the bowl of eggs. Use a rubber spatula to separate the potato layers and let the egsg flow between. Let stand for another 10 minutes. 
Remove any chunks of potato that may have stuck in the skillet and return it to the stove. Pour in a couple tablespoons of the reserved olive oil. Pour the mixture from the bowl into the skillet. Cook like an omelet - go around the edge of the pan with the rubber to keep from sticking and to let the uncooked egg on top run flow underneath. Occasionally, rotate the skillet left and right in jerky motions to free the eggs from the bottom and keep from sticking. Drizzle a litte more olive oil around the edge if necessary. The omelet must be loose for the next step. It'll be ready for flipping when the eggs on the bottom are just turning slightly brown and the egg on the top is firmed up a bit. It'll still be slightly liquid on top. Adjust the temperature during cooking to achieve this endpoint.
The tricky part --- get a rojnd lightweight plate or platter (I use a 15" bamboo platter), and smear reserved olive oil over the entire surface. Place the plate upside down on top of the skillet. Now, in one movement, flip the plate/skillet assembly upside down so the omelet drops onto the plate. With the rubber spatula, slide the omelet back into the skillet (remove any stuff that's stuck in the skillet first and add more olive oil if necessary). Tuck the edges in with the rubber spatula and jerk the skillet L/R to center it and prevent from sticking. 
After about half the time it took to cook the first time, you're ready to remove the omelet. Since the first side to cook is the brownest and the prettiest, you'll want it facing up on the serving platter. Two steps: 1) flip the omelet back on the bamboo platter, and slide it onto a wire rack to cool for several hours, 2) flip the omelet from the wire rack onto the serving platter.
Garnish with parsley, slice in wedges and serve at room temperature. 
VARIATIONS: you don't want to muck with this simple recipe much at all. It's not a frittata. One good variation is to add strips of peeled fire roasted sweet peppers to the layers as you build them. The Spanish would have you use piquillo peppers. I used a few chunks of feta cheese in the version pictured above.
December 5th, 2012
Written by:
Bill
Published on December 5th, 2012 @ 01:19:00 am , using 97 words, 90962 views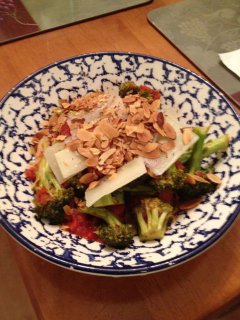 September 16th, 2012
Written by:
Bill
Published on September 16th, 2012 @ 12:08:00 am , using 163 words, 90351 views
To be honest, I didn't grow the mangos. They came in a big box at the local Chinese market from Mexico. No way as good as the mangos I had in Pakistan seven years ago. Still, they're a great addition to summer salsa where many of the ingredients do come from the home garden. 
Forget about asking about quantities of each ingredient --- I made this on the fly the day before we washed 100 cases of wine bottles in preparation of our Merlot bottling today. Everybody asked for the recipe, so here's the best you'll get:
Ingredients
ripe garden tomatoes
mango
cilantro
garlic (homegrown, of course)
green onion
yellow onion
hot peppers: serrano, habanero, jalapeno
lime juice
garlic salt
salt, pepper
Preparation
Peel the tomatoes, cut in half, squeeze out the seeds and excess juice in the sink, chop finely. Dice mango, onion, cilantro. Mince garlic. Seed and chop hot peppers finely. Squeeze fresh limes. Combine, add garlic salt, salt, pepper and mix. Chill,enjoy!
August 10th, 2012
Written by:
Bill
Published on August 10th, 2012 @ 02:50:00 pm , using 217 words, 91286 views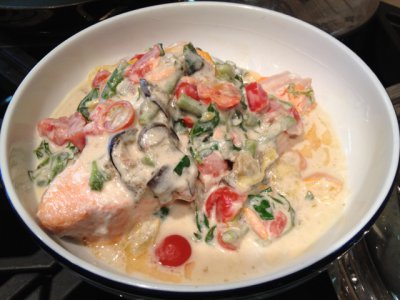 When I saw the fresh, glistening king salmon fillets from Bodega Bay in the Oliver's Market fish counter, I just had to buy a couple of pounds even though I was there just to buy appetizers. The $9/lb special price sealed the deal. With family out of town, I invited my CIA-trained sister to join me in concocting a dish from the fillets. First, I grabbed a basket and headed into the garden where I found a majority of the ingredients we used. Thankfully, the salmon have returned to the coast of California and it's summer here once again.
Ingredients
2    10-oz slices of salmon, cut across a fillet 1.5" thick, pin bones removed2    small Machinaw eggplant (6" long, 1/2" - 1" diameter)3/4 c. green beans (mix of Trail of Tears, haricot verts, Kentucky Wonder)3/4 c.    cherry tomatoes, halved2-3    diced shallots3 cloves garlic, minced1 can coconut milk1c. chopped basil leaves1/8 c. chopped spearmint leavesolive oil1/8 c. fish sauce
Preparation
Saute the eggplant slices in olive oil until lightly browned, remove from pan. Saute shallots and garlic until soft. Place fish fillets in pan, skin side down. Add eggplant, beans and distribute beside fish. Pour coconut milk over everything, add fish sauce, cover and simmer for ~10 minutes. Add basil, mint, and tomatoes. Cover and simmer another 5 minutes. Adjust with salt and pepper as desired.

Permalink
1 comment »