December 3rd, 2009
Welcome Foodies!
Written by:
Bill
Published on December 3rd, 2009 @ 04:42:24 pm , using 77 words, 48517 views
Posted in
We are lucky to live in California! Year round, we have an incredible bounty of fresh, nutritious raw ingredients to eat right off the vine or to craft into sumptuous dishes to serve at the table. This blog is an outlet for us to share with you readers the enchanting experience we have day to day in our kitchen and garden. Not to mention a draw from the collection of our home-made Dragon Crest wine. Bon Appetit!

Permalink
April 20th, 2012
Written by:
Bill
Published on April 20th, 2012 @ 09:07:00 pm , using 359 words, 67346 views
When a wild  bee colony moved into our back yard last year, and we all got along fine for a year, I decided I'd like to try raising my own colony in a bee hive suitable for extracting honey. I prepared by taking a bee class over the winter holidays, but otherwise didn't get ready for the forcing function we faced a few days ago --- our backyard bee colony had produced another queen and was swarming in a tree in our front yard. It was time to act, even though I was only three days out of rotator cuff surgery and had no use of my right arm. 
I needed a hive box and some helping hands to move the swarm from the tree to their new home. A nearby father-son beekeeping supply outfit provided the hive box and a protective suit. So, on Sunday afternoon at 3pm, all I needed was a willing volunteer to capture a swarm of bees the size of a basketball and move it into my back yard. After several neighbors insisted that they had to finish their tax returns and couldn't help, I began calling names on the swarm list provided by the local bee guild. 
My bee class instructor had mentioned a "Lothar" in the South Bay as a g0-to guy for bee help. I found his name on the list and called Lothar Schicker for advice. I was stunned that he offered to be at my house to move the swarm that evening, the best time to move bees. 
Lothar arrived in blue jeans and a jean jacket. He donned nothing else to protect him from the bees other than some nylon sleeve protectors and a white floppy hat. He had head gear nearby but never bothered with it. To my amazement, Lothar quietly ascended my 12-foot ladder with his clippers in hand, sprayed the swarm with some water to calm down the bees, and proceded to trim away the branches. He positioned a cardboard box over the clump of bees while my neighbor used a pole trimmer to clip off the entire branch. Plop. Here you have your bees:
March 30th, 2012
Written by:
Bill
Published on March 30th, 2012 @ 01:56:00 am , using 361 words, 9060 views
I'm serious. A 12 pound Ling Cod from the depths of a Monterey underwater canyon, brought to the surface at the end of my neighbor Bob's spear... is BLUE. Filleted on the cutting board --- the meat is BLUE. On the plate, after stuffing with fresh Dungeness crab and shrimp and baking is... white, flaky and delicious. 
Nothing beats an email from Bob at 4PM asking if you'd like some fish. It's probably still twitching in his cooler. Here I am with his quarry.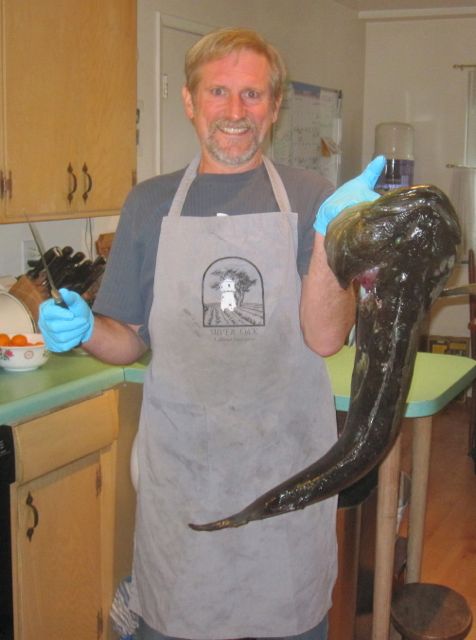 You think I'm kidding about BLUE? Just see for yourself ----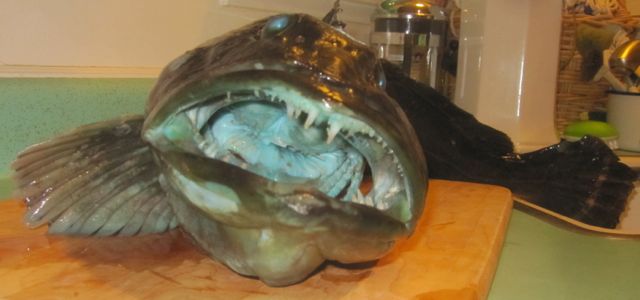 And here's what a pile of BLUE fillets look like...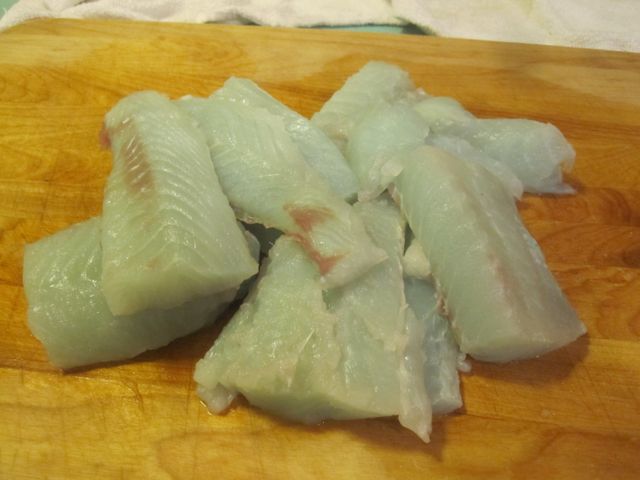 What did I do with these beauties?
- dredge in mixture of flour, Penzey's Northwoods Seasoning Blend, S&P
- dip in backyard chicken egg
- roll in Panko breadcrumbs
- sauté in peanut oil with thinly sliced Thai peppers
And... here's what you get (with steamed Jasmine rice and 5-minute steamed brussel sprouts):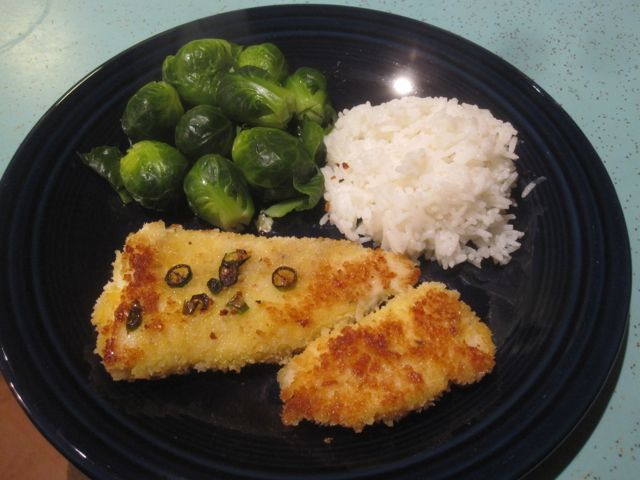 Now, to kick it up a notch let's stuff an entire slab of fish with some great seafood boosters -- crab & shrimp.
First thing is to buy a live Dungeness Crab, whack it, cook it and have a glass of wine while you extract the tender meat into a bowl. After cooking the crab, drop a dozen shrimp into the water for a minute. Remove, cool, peel, and chop the shrimp into small pieces and add it to the bowl of crab meat. Now, you're ready to start: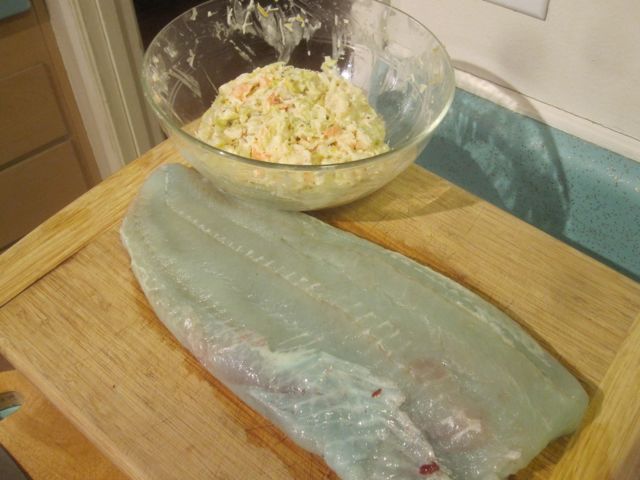 Since we have a divided household --- those who can have gluten and those who can't --- I always make two preparations. The bowl in the photo above has crab meat, shrimp, sauteed celery and shallots, mayonnaise, salt and pepper. Good for both houses. I split the bowl and added some of those sauteed Thai peppers into my ration. Cut the fillet in half, split each open with a sharp paring knife and stuffed each one.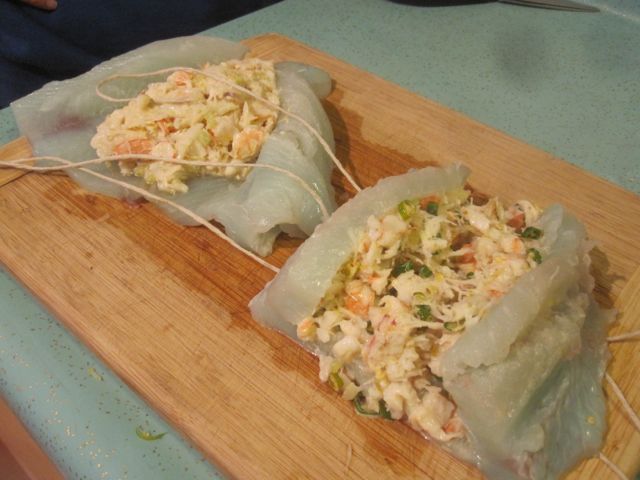 I used a heavy kitchen twine to seal up the fillets.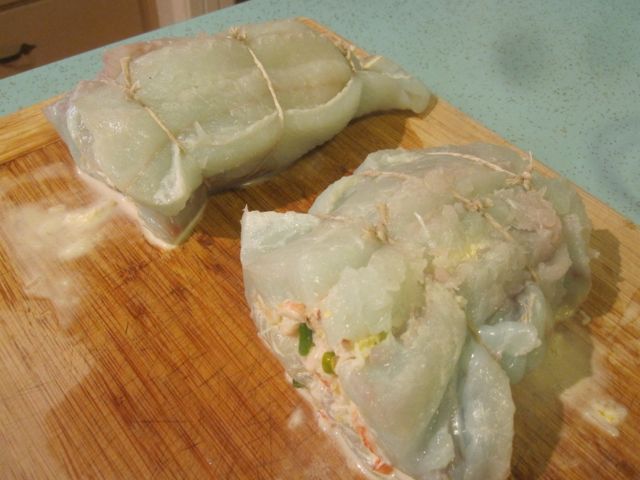 Breaded each package with Panko, one GF and one regular. Placed in separate baking dishes sprayed with olive oil.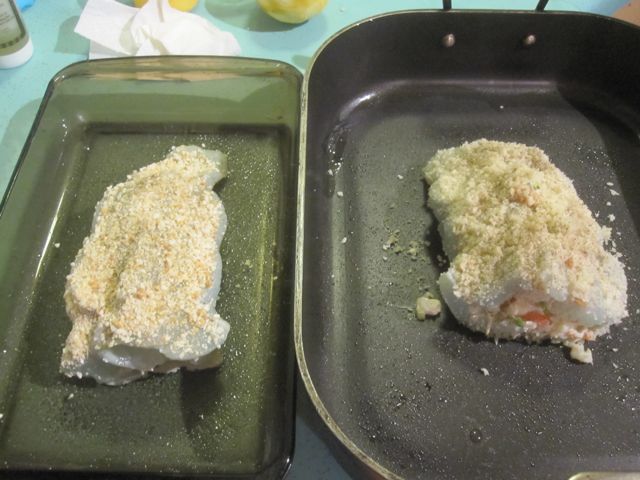 After baking at 375 degrees for about 40 minutes, we were ready to go!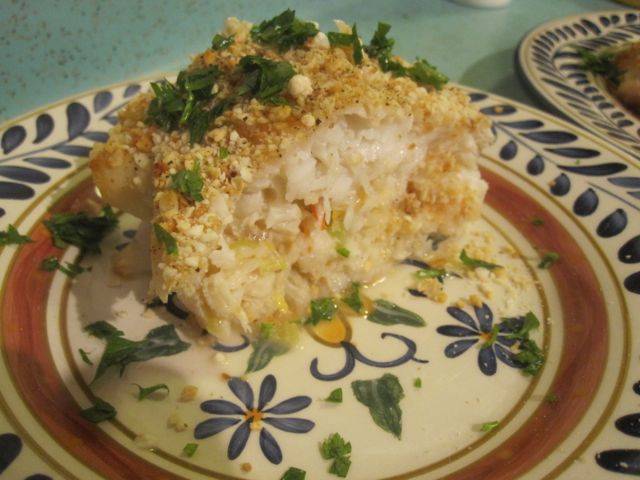 Here's a toast to Bob! Bon Appetit!
January 24th, 2012
Written by:
Bill
Published on January 24th, 2012 @ 02:51:00 pm , using 253 words, 572 views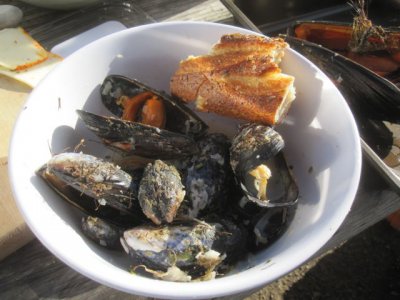 Every year in January, Boy Scout Troop 443 does an outing to Pescadero State Beach to feast on freshly harvested mussels. Of course, the boys have to pluck them from the rocks with their bare hands (no tools are allowed per Fish & Game regulations). After an hour of scambling over the rocks, the older boys show up with buckets full of the jet black beauties while the younger boys present us with various beach detritus they've collected. My job is to bring my portable outdoor kitchen and prepare the mussels for our lunch.
Equipment for the Beach
- 30,000 BTU propane burner and tank
- 10 gallon stainless stock pot and lid
- wind and rain shield (EZ-up, tarp, sand stakes)
- ingredients all ready to go
- portable propane oven to heat bread

Ingredients
- 3-4 gallons fresh picked mussels, cleaned of sand and de-bearded
- 1 bottle white wine
- head of garlic, minced
- 1/2 pound of shallots, minced
- 1 bunch flat leaf parsley, chopped
- 4 bay leaves
- 3 tablespoons thyme
- 1 1/2 sticks butter
Preparation
Melt butter in large stock pot, add garlic and shallots to soften. Add wine and simmer to reduce for about 5 minutes. Combine all other ingredients except mussels. Reserve 1/4 of the parsley. Simmer for 5-10 minutes. Add SALT & PEPPER to taste. Add mussels and cover pot tightly. After about 3 minutes of steaming, use a large slotted wok spatula/spoon to stir the mussles (invert top/bottom layers). Cover and cook until most of the mussels have opened slightly.
Serve mussels in bowls, ladel broth over top, sprinkle with (reserved, uncooked) parsley, and serve with heated fresh sourdough bread.
October 10th, 2011
Written by:
Bill
Published on October 10th, 2011 @ 05:36:12 pm , using 222 words, 391 views
A long-time favorite recipe heretofore confined to a raggedy slip of paper tucked in our recipe notebook. This jelly is unlike any you'll find in the store -- a perfect balance between the flavor and punch of the habaneros and the sweetness of the sugar in the jelly.
Serving Suggestions: put jelly on top of cream cheese and spread on crackers, on your morning English muffin or sourdough toast, perfect with roast lamb, put a teaspoonful in your salad dressing. Be creative!
Quantity: 5 cups jelly
Ingredients
1/2 c. seeded and cored fresh habanero peppers
1 1/2 c. seeded and cored fresh orange or yellow bell pepper (Ariane, Quadrato de Oro, etc.)
1 pkg pectin (dry or liquid)
4 c. sugar
1 1/2 c. white vinegar (or apple cider vinegar)
Preparation
Open the kitchen window, don latex food gloves and goggles, and prepare the habaneros. Use a small paring knife to slice peppers, remove seeds and cut away white pith. Do the same for the sweet bell peppers. Hint - pack both peppers into a 2 c. glass measuring cup until full. Combine peppers with vinegar in a blender and blend until pureed.
Bring pepper/vinegar puree to a boil and add pectin. Simmer gently for ~5 minutes. Add sugar and return to boil. Skim all solids until mixture and surface is clear.
Ladle jelly into sterilized canning jars, secure lids and allow to cool.

Permalink
Leave a comment »
September 29th, 2011
Written by:
Bill
Published on September 29th, 2011 @ 03:42:13 am , using 321 words, 236 views
Should'a cooked it Sunday night and now it's Wednesday. Fortunately, the meat drawer is near freezing and the food is fine. Two-pack of organic boneless skinless chicken breasts which no one in my house will eat except me (no further comment on that topic). Ok, I'm on my own so I don't have to have it ready in the next fifteen minutes. What to do.... hummm.
Go stuff it. I mean the chicken. That's what I did. Pound the meat, layer a bunch of stuff on it, roll it up and bake it in the oven. Surround with fresh picked limas (Henderson and Christmas), fresh picked Trail of Tears beans (yes, the Cherokees carried them to Oklahoma), and some marinated garden cucumbers and tomatoes. Good to go.
Ingredients
2 boneless, skinless organic chicken breasts, pounded flat with meat mallot
chopped garlic
pine nuts
shallots
fresh basil leaves
fresh sage leaves
fresh spinach leaves
blue cheese
flour, parmesan cheese, olive oil, salt, pepper, chicken stock, white wine, butter
Preparation
Heat olive oil in a non-stick frying pan, add sage leaves and fry until brown. Remove with tongs to a bowl or plate. Turn heat low, add pine nuts to brown. Add in garlic and shallots and cook for a few minutes.
Layer pounded breasts with sage leaves, basil, spinach, pine nuts/garlic/shallots, blue cheese. Add S&P. Roll tightly and close with toothpicks.
Spray outside of breasts with olive oil, sprinkle with flour and add grated parmesan cheese. S&P again. Place on rack in baking pan. Add chicken stock and white wine to bottom of pan. Bake at 375 for 35 minutes, checking to make sure pan doesn't boil dry (add stock/wine if so). Brush breasts with melted butter and broil on high for 5 minutes or until crispy brown. Add remaining melted butter to pan and cook over stove until gravy is thickened (may need to add wine to deglaze pan).
Assemble plates and serve (remove toothpicks!).

Permalink
Leave a comment »