December 3rd, 2009
Welcome Foodies!
Written by:
Bill
Published on December 3rd, 2009 @ 04:42:24 pm , using 77 words, 48516 views
Posted in
We are lucky to live in California! Year round, we have an incredible bounty of fresh, nutritious raw ingredients to eat right off the vine or to craft into sumptuous dishes to serve at the table. This blog is an outlet for us to share with you readers the enchanting experience we have day to day in our kitchen and garden. Not to mention a draw from the collection of our home-made Dragon Crest wine. Bon Appetit!

Permalink
May 10th, 2010
Written by:
Bill
Published on May 10th, 2010 @ 04:27:50 pm , using 78 words, 118 views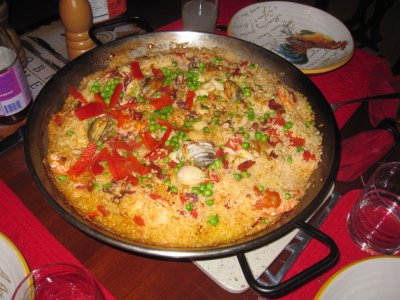 With Susan in the U.K. on business this week, I decided to fix something Sunday night that would have leftovers. Paella seemed the perfect solution. See the Jan 12 post for the recipe and the cooking procedure. Tonight, I'll just give the main ingredients and a picture!
INGREDIENTS
air chilled chicken wings
shrimp
scallops
squid tubes and tentacles
littleneck clams
spanish chorizo
bomba rice, fresh peas, fresh flame roasted pasilla pepper, garlic, clam stock, and of course saffron
April 22nd, 2010
Written by:
Bill
Published on April 22nd, 2010 @ 01:18:42 am , using 368 words, 825 views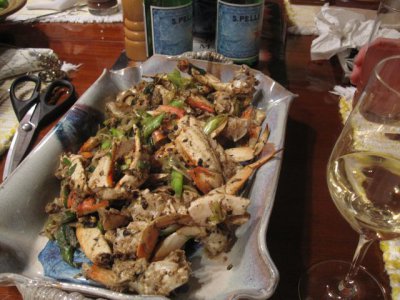 OK, Feb-Apr drought. No, we haven't gone without eating, just without reporting on our delicious meals. So, tonight's entry is a meal I prepared at gunpoint --- Susan insisted that I procure and prepare dinner. I can't really say how I was inspired to prepare this meal, but let's just say it's the end of the season for Dungeness Crab and I felt like making a dish I've always made at least once a year. I think I learned how to prepare this from a Chinese lady in a grocery store one time 20 years ago. Somehow, tonight's meal was particularly good (and very messy). Here we go.
INGREDIENTS- 2 live Dungeness crabs- 15 green onions- 2" section of fresh ginger- 3/4 head of garlic- 3 tbs fermented black beans- 2 eggsSauce- 1/2 c. chicken stock- 2 tbs soy sauce- 2 tbs rice cooking wine- 1 tsp sugar- 1 tbs sesame oilPREPARATION- Ugly part of buying fresh, live crabs for this recipe is that you have to prepare them for cooking. Translation --- you have to kill them and then clean them raw. Various techniques are possible --- whack them with a metal meat tenderizer, poke them with chopsticks, etc. Find your own way...- Cleaning the crab means to separate the legs with the body segments and then use a knife to crack open each leg segment with a twist. The idea is to make sure all raw crab meat will be exposed to heat and sauce when cooked. You can chop the segments in half and have good results.- slice the green onions at a diagonal angle- ginger: peel skin off with a spoon, slice thinly - garlic: chop finely- black beans: rinse in strainer, drain, chop finely- eggs: break into bowl and mix with fork or whiskCOOKING- I use an outdoor double burner 30K BTU camp stove for my chinese dishes- I also use a steel chinese wok for cooking, along with a big slotted, wooden handled spoon for mixing and stirring ingredients- add oil to wok, about 3-4 tbs- add crab pieces, spread out, cook for 10 minutes or so, turning regularly- remove crab- add oil, garlic, black beans, ginger. Stir fry.- add green onions. Stir fry.- add back the crab and toss- add eggs, stir and mix- add sauce, stir and mix
February 11th, 2010
Written by:
Bill
Published on February 11th, 2010 @ 11:49:36 am , using 184 words, 217 views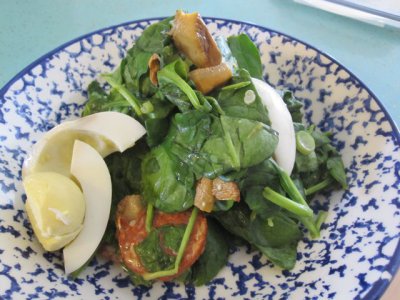 Susan and I recently spent a weekend in San Francisco. On Sunday morning we purchased a large, beautiful chanterelle mushroom from a fungus grower at the Ferry Building (along with an array of delicious goat and sheep cheeses from Cowgirl Creamery). Standing in the kitchen that evening, and *not* wanting to go to the store, I took stock of ingredients on-hand and decided upon this delicious dish. Since this was a multi-recipe inspired arrangement, and it was two weeks ago, I can only give my best recollection as to how I made it!
INGREDIENTS
chanterelle mushroom
spanish-style chorizo
green onion
spinach
boiled egg
lemon juice
3 tbs red wine vinegar
PREPARATION
Cut the mushroom into small bite-size chunks, parboil for 3-5 minutes, drain, marinate in a couple tablespoons of lemon juice for about 15 minutes. Sprinkle of salt. In a skillet, fry slices of chorizo and drain off excess oil (reserving just a bit), remove from pan. Mix spinach, green onion slices, mushrooms. Heat pan, add sausage, vinegar and a splash of chicken stock, deglaze. While still hot, pour over spinach mixture, toss until wilted, serve with egg garnish.
February 11th, 2010
Written by:
Bill
Published on February 11th, 2010 @ 11:15:47 am , using 295 words, 112 views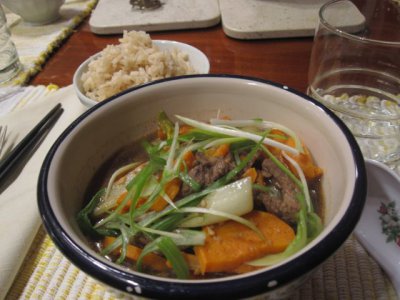 I took Dalton to a post-op checkup at the oral surgeon yesterday afternoon. Knowing I had to pick up food for dinner on the way home, I searched the waiting area for a cooking/food magazine to get some inspiration. This recipe comes from Sunset magazine and I easily made it without modifications. Brown jasmine rice provided some extra filling for hungry boys.
Ingredients
4  large garlic cloves
1  piece fresh ginger (1 in. square), cut into chunks
1 1/4  pounds  beef rib-eye steaks (about 1 1/2 steaks)
1/2  teaspoon  kosher salt
1  tablespoon  vegetable oil
2  teaspoons  Chinese five-spice powder
3  cups  reduced-sodium beef broth
2  tablespoons  soy sauce
1  deep-orange sweet potato (12 oz.; often labeled yam)
12  ounces  baby bok choy
2  green onions
Preparation
1. Whirl garlic and ginger in a food processor until minced. Trim fat from steaks and cut across the grain into 1/4-in. slices, discarding pockets of fat. Sprinkle meat with half of garlic mixture and all the salt.
2. Heat oil in a 5- to 6-qt. pan over high heat. Brown half the beef lightly, stirring occasionally, 3 to 6 minutes. With a slotted spoon, transfer meat to a plate. Repeat with remaining beef.
3. Reduce heat to medium. Add remaining garlic mixture to pan and cook until softened, about 30 seconds. Stir in five-spice powder, then broth and soy sauce. Peel sweet potato, halve lengthwise, and cut in 1/3-in.-thick slices. Add to broth. Cover and bring to a boil over high heat, then reduce heat and simmer 2 minutes.
4. Meanwhile, trim ends from bok choy, rinse, separate leaves, and cut in wide diagonal slices. Stir bok choy into stew and simmer just until wilted, about 2 minutes. Stir in beef and cook until hot, 1 to 2 minutes. Cut onions in 3-in. slivers.
5. Ladle stew into bowls and garnish with onions.
February 9th, 2010
Written by:
Bill
Published on February 9th, 2010 @ 01:34:20 pm , using 528 words, 78 views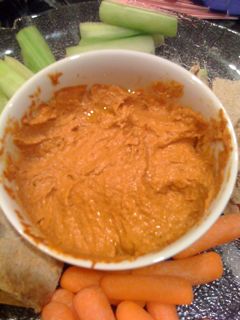 Barbara found this recipe for a hummus-like dip and made it for parties we attended last weekend. Very good with pita slices or fresh carrots, celery, etc. Here is the recipe along with her notes on modifications. Note that it calls for Pomegranate Molasses --- since you won't find that many places, a recipe is included so you can make it yourself.
2 1/2 pounds red bell peppers

1 small hot chili, such as Fresno or Hot Hungarian

1/2 cup wheat crackers, crumbled

1 1/2 cups (6 ounces) walnuts coarsely ground

1 tablespoon lemon juice

2 tablespoons Pomegranate Molasses, sometimes more to taste

1/2 teaspoon cumin

1/2 teaspoon sugar

3/4 teaspoon salt

2 tablespoons olive oil
Directions
- For best results, make at least one day in advance.
- Roast the peppers and chilies either over colas or a gas burner or under an electric broiler, turning frequently until they are blistered, about 12 minutes.
- Place in a bowl, cover with plastic wrap and let steam for 10 minutes to loosen the skin. Peel off the skin and remove the membranes and seeds. Spread the bell peppers, smooth side up, on a paper towel and let drain 10 minutes.
- In the work bowl of your food processor, combine and process the crackers, walnuts, lemon juice, pomegranate molasses, cumin, salt, and sugar, until smooth.
- Add the red peppers and process until pureed and creamy. With the machine running, add the olive oil in a thin stream.
- Add the chili pepper to taste.
- If it is too thick, thin with a few tablespoons of water. Refrigerate overnight to allow the flavors to mellow.
- To serve, drizzle with olive oil and sprinkle with cumin. Serve with the pita wedges or vegetables.
What I did:
- used 2 Serrano chilies and roasted them along with the bell peppers. (I could not find Fresno or Hot Hungarian chilies)
- used the oven broiler to roast the peppers
- used Almond Nut-Thins crackers instead of wheat crackers
- added both Serrano chilies with the red peppers
- made my own pomegranate molasses (recipe follows)
- original recipe also said to sprinkle pin nuts on top before serving, but I skipped that
Some other recipes I saw used pre-roasted peppers from a jar and breadcrumbs instead of the wheat crackers.
Pomegranate Molasses Recipe (from simplyrecipes.com)
Ingredients
4 cups pomegranate juice
1/2 cup sugar
1/4 cup lemon juice
Method
In a large, uncovered saucepan, heat pomegranate juice, sugar, and lemon juice on medium high until the sugar has dissolved and the juice simmers. Reduce heat just enough to maintain a simmer. Simmer for about an hour, or until the juice has a syrupy consistency, and has reduced to 1 to 1 1/4 cups. Pour out into a jar. Let cool. Store chilled in the refrigerator.
If you want your pomegranate molasses to be sweeter, add more sugar to taste, while you are cooking it.
What I did: I didn?t want over a cup of this so I cut the ingredients in half and only simmered for about 40 mins. It was tasty but very stiff? It solidified when it cooled. So to get the 2 T for the muhammara recipe I just warmed the molasses in the microwave until I could scoop out 2 T. The molasses wasn?t very sweet, but the muhammara dip came out very tasty.