December 3rd, 2009
Welcome Foodies!
Written by:
Bill
Published on December 3rd, 2009 @ 04:42:24 pm , using 77 words, 48518 views
Posted in
We are lucky to live in California! Year round, we have an incredible bounty of fresh, nutritious raw ingredients to eat right off the vine or to craft into sumptuous dishes to serve at the table. This blog is an outlet for us to share with you readers the enchanting experience we have day to day in our kitchen and garden. Not to mention a draw from the collection of our home-made Dragon Crest wine. Bon Appetit!

Permalink
January 26th, 2010
Written by:
Bill
Published on January 26th, 2010 @ 06:58:16 pm , using 140 words, 169 views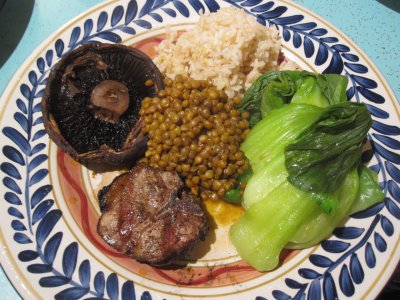 My sister wrote to ask about tips for preparing baby bok choy. I couldn't resist, so we had that tonight along with some other simple preparations.
Baby Bok Choy: a cup of chicken broth, 1 tsp sesame oil, 2-3 tbl liquid amino in skillet, bok choy spread evenly, simmer covered until just right, remove greens and reduce liquid, serve on plates and pour sauce on top
Brown Jasmine Rice: use the rice cooker, but remember it takes an hour for brown rice
Fancy Green Lentils: cover in pot with crushed garlic, tumeric, cayenne, salt. Add a little chicken broth for richness
Portabella Mushroom: spritz with olive oil, grill over med low heat for about 20 minutes; start with cap down, flip, flip again
Grilled Lamb Loin Chop: coat in olive oil, Kosher salt, fresh ground pepper. Grill over high heat 2-3 minutes per side.
January 20th, 2010
Written by:
Bill
Published on January 20th, 2010 @ 01:24:04 am , using 76 words, 114 views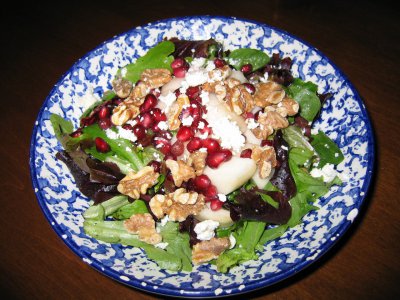 Another cross-over opportunity: the end of fall meets the promise of spring = winter salad. This creation came together on a Friday night when the turkey and black bean chili was taking longer to prepare than hungry boys could handle. Starvation and a cacophony of flavors led to clean bowls in an instant.
Ingredients
Spring mix greens, pomegranate seeds, comice pear, Bulgarian feta cheese, toasted walnuts. Dressing: French raspberry flavored red wine vinegar, olive oil, lemon juice.
January 12th, 2010
Written by:
Bill
Published on January 12th, 2010 @ 11:32:02 am , using 232 words, 170 views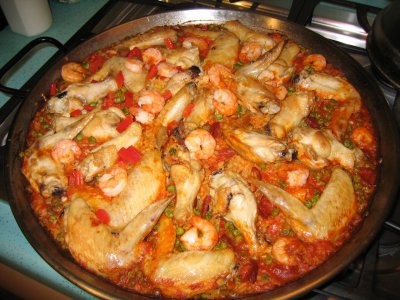 Rainy Monday night fare to share with neighbors --- Spanish paella. This dish is a lot like spaghetti, chili, or cioppino: proportions vary every time and the ingredients depend on your mood and appetite, as long as you stick to some basics. Tonight we used chicken, Spanish chorizo, and black tiger shrimp. My 16" authentic paella pan (pata negra) feeds about 10-12. In a traditional Valencian paella, use shellfish stock and lots of clams, mussels, scallops, shrimp, and lobster. Tonight's recipe was convenient and more homey.
Ingredients
2 c. Bomba (brand) paella rice4 c. chicken broth
Spanish chorizo, cubed into small chunks10-12 chicken wings, in sectionspeeled shrimp1 c. frozen peassaffron, ground in a mortergarlic, mincedsmoked Spanish paprika1-15oz.can tomato saucediced roasted red pepper (Piquillo, if you can find them)olive oil
Preparation
Brown chicken in olive oil, about 3 minutes per side. Remove to bowl. Saute chorizo, remove and drain excess fat from pan. Toss in garlic for about a minute, then add tomato sauce and half the peppers. Simmer for a few minutes, then add rice. Mix well, add peas, saffron and paprika. Slowly add broth and spread rice evenly. Add chorizo, chicken, shrimp by placing evenly around pan. Heat to boiling on stove, then transfer to 350 degree oven. Cook approximately 40 minutes without stirring, until rice is done. Remove from oven, cover with tin foil and let rest for 10 minutes. Serve with lemon wedges and chopped parsley as garnish.
January 10th, 2010
Written by:
Bill
Published on January 10th, 2010 @ 06:56:07 pm , using 502 words, 246 views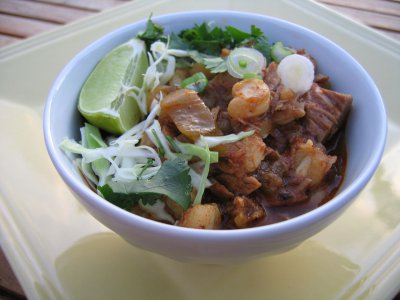 After having posole for the first time in New Mexico last summer, I knew I had to try cooking it. It was worth every bit of the effort. It does require two days to prepare, since removing the rendered fat takes overnight refrigeration. The recipe from Epicurious is given below, however I did make some modifications. Essentially, I used as-purchased proportions. The boneless pork shoulder weighed a little more than five pounds (didn't have "con huesos" available). The hominy came in a giant 107 ounce can for $3.25, the chilies came whole in a 29 oz can. A nice Hispanic lady shopper told me in Spanish that I should use two ancho (dried poblano, often mislabeled as pasilla) and four New Mexico chilies. I ground half in a spice grinder and added to the first stage of cooking. For the second cooking stage, I simmered the chilies in a little water, then blended them with the garlic. For the cumin, I used whole seeds, roasted them in a black frying pan, and ground them in the spice grinder. In addition to cilantro, lime and green onion, I used thinly sliced green cabbage as a garnish. Oh, so good...
Ingredients
4 medium onions, divided
7 tablespoons canola oil or vegetable oil, divided
4 tablespoons ancho chile powder,* divided
2 tablespoons plus 2 teaspoons dried oregano (preferably Mexican), divided
1 6-to 6 1/2-pound bone-in pork shoulder (Boston butt), cut into 4- to 5-inch pieces, some meat left on bone
5 cups (or more) low-salt chicken broth
4 7-ounce cans diced green chiles, drained
5 large garlic cloves, minced
4 teaspoons ground cumin
4 15-ounce cans golden or white hominy, drained
4 limes, each cut into 4 wedges
Thinly sliced green onion
Chopped fresh cilantro
Preparation
Preheat oven to 350°F. Thinly slice 2 onions. Heat 4 tablespoons oil in heavy large ovenproof pot over medium-high heat. Add sliced onions to pot and sauté until onions begin to soften, about 3 minutes. Add 1 tablespoon plus 1 teaspoon ancho chile powder and 1 tablespoon plus 1 teaspoon oregano; stir to coat. Sprinkle pork with salt and add to pot. Add 5 cups broth. Bring to boil. Cover and transfer to oven.
Braise pork until tender enough to shred easily, about 2 hours. Using slotted spoon, transfer pork to large bowl. Pour juices into another large bowl. Refrigerate separately uncovered until cool, then cover and keep chilled overnight.
Discard fat from top of chilled juices; reserve juices. Chop pork into 1/2-inch cubes, discarding excess fat. Thinly slice remaining 2 onions. Heat remaining 3 tablespoons oil in heavy large pot over medium-high heat. Add onions; sauté until soft, stirring often, about 7 minutes. Add remaining 2 tablespoons plus 2 teaspoons ancho chile powder, remaining 1 tablespoon plus 1 teaspoon oregano, diced chiles, garlic, and cumin; stir 30 seconds. Add pork, reserved juices, and hominy. Bring to boil; reduce heat to low. Cover with lid slightly ajar and simmer 30 minutes to allow flavors to blend, adding more broth to thin, if desired. DO AHEAD: Can be made 1 day ahead. Cool slightly. Chill uncovered until cool. Cover and keep chilled. Rewarm before continuing.
Ladle posole into bowls. Garnish with lime wedges, green onion, and cilantro.
January 5th, 2010
Written by:
Bill
Published on January 5th, 2010 @ 01:40:27 pm , using 295 words, 134 views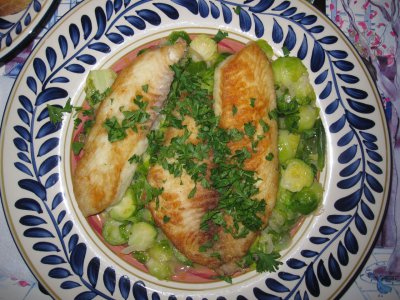 A delicious way to start back to school and work. And better than your average Monday night fare. We had some Brussels Sprouts in the refrigerator, so Susan found this recipe that only required me to pick up some fresh fish. I substituted Tilapia because WF was sold out of sole. Tasty enough that even Dalton ate it! Double this recipe to serve 4.
For the GFDF crowd, use rice flour to coat the fish. Cook the spouts in one pan, then serve the GFDF dishes and add butter to the remaining servings, melt and stir in, then serve.
Ingredients
1/4 cup all purpose flour

2 teaspoons finely grated lemon peel

1 teaspoon coarse kosher salt

1/2 teaspoon ground white pepper plus additional for seasoning

3 tablespoons olive oil, divided

12 ounces petrale sole fillets

3/4 cup thinly sliced shallots

6 ounces brussels sprouts, trimmed and thinly sliced lengthwise

1 cup vegetable broth

1 tablespoon unsalted butter

1 teaspoon chopped fresh Italian parsley
Preparation
- Combine flour, lemon peel, coarse salt, and 1/2 teaspoon white pepper in shallow bowl.
- Heat 1 tablespoon olive oil in each of 2 large skillets over medium heat. Coat fish in flour mixture and shake off excess. Add fish to skillets and cook until opaque and golden brown, 1 to 2 minutes per side. Remove from heat and season to taste with salt. Cover loosely with foil and set aside.
- Wipe out 1 skillet. Add remaining 1 tablespoon olive oil and heat over medium heat. Add shallots and sauté until almost translucent, about 2 minutes. Add brussels sprouts and broth. Increase heat to medium high and cook, stirring occasionally, until brussels sprouts are tender and liquid is almost completely absorbed, about 8 minutes. Remove from heat. Stir in butter. Season to taste with salt and white pepper.
- Spoon brussels sprouts onto plates. Top with fish, sprinkle with chopped parsley, and serve.