December 3rd, 2009
Welcome Foodies!
Written by:
Bill
Published on December 3rd, 2009 @ 04:42:24 pm , using 77 words, 48520 views
Posted in
We are lucky to live in California! Year round, we have an incredible bounty of fresh, nutritious raw ingredients to eat right off the vine or to craft into sumptuous dishes to serve at the table. This blog is an outlet for us to share with you readers the enchanting experience we have day to day in our kitchen and garden. Not to mention a draw from the collection of our home-made Dragon Crest wine. Bon Appetit!

Permalink
December 26th, 2009
Written by:
Bill
Published on December 26th, 2009 @ 06:01:40 pm , using 78 words, 152 views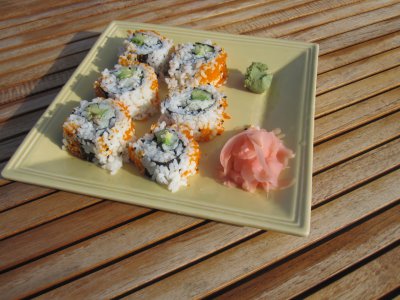 Every year the Fish Market Restaurant has a special on Dungeness crab -- $3.75/lb cracked and cleaned this year. I woke at 6AM today to start shucking so I could dispose of the shells in today's garbage. After making a crab and mushroom omelet for breakfast, I started working on the California Rolls for lunch!
Ingredients
Sticky rice (short grained rice, rice vinegar, sugar)NoriSesame seeds (white hulled, India black)Masago (fish eggs)AvocadoCucumberCrabWasabi & pickled ginger
To prepare, just watch the chef: http://video.about.com/japanesefood/Sushi-Video.htm
December 24th, 2009
Written by:
Bill
Published on December 24th, 2009 @ 03:28:53 pm , using 209 words, 208 views
What to do when it's time to have chicken again? Something different! I had a hankering for something flavorful, and the jar of Penzey's Maharaja Curry beckoned. I was lacking a few ingredients so I dispatched Dalton and Kellan to the store. Since their choice was to comply or go hungry, they went while I made the preparations. Very delicious, and guess what, no leftovers.
Ingredients
1 1/2 lb skinless boneless chicken thighs (about 3 to 4) 1 teaspoon salt 2 tablespoons vegetable oil 3 garlic cloves, smashed and chopped 2 teaspoons curry powder (preferably Madras) 1/4 teaspoon cayenne 1 (13- to 14-oz) can unsweetened coconut milk 1 (14 1/2-oz) can stewed tomatoes 1/4 cup dried currants 1 (10-oz) package frozen whole baby okra 1/2 cup unsalted roasted cashews (3 oz), chopped
Preparation
Pat chicken dry and sprinkle with 1/2 teaspoon salt. Heat oil in a 12-inch heavy skillet over moderately high heat until hot but not smoking, then brown chicken, turning over once, about 5 minutes total. Transfer chicken with tongs to a plate. Stir garlic, curry, and cayenne into fat in skillet, then add coconut milk, tomatoes with their juice, currants, and remaining 1/2 teaspoon salt and bring to a simmer. Add okra and chicken along with any juices accumulated on plate and briskly simmer, partially covered, until chicken is cooked through, 15 to 20 minutes. Sprinkle with cashews.
December 19th, 2009
Written by:
Bill
Published on December 19th, 2009 @ 10:34:23 pm , using 76 words, 291 views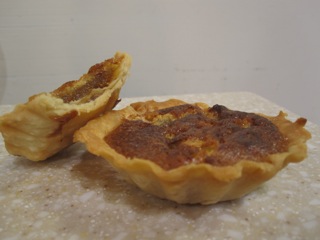 An old family recipe that I remember from my youth. I've only made these a couple of times, the first of which was one time in college at NCSU. With Susan's coaching I made a batch again today and plan to take them to the Brett's home for the cookie party tonight. Limit: 1 per couple. Each tart has an egg yolk, two tablespoons of butter, three tablespoons of brown sugar, lemon juice and zest. Killer.
December 14th, 2009
Written by:
Bill
Published on December 14th, 2009 @ 04:57:32 pm , using 157 words, 982 views
Sorry, this meal went so fast we couldn't snap a picture of it. Borrowing a page from the Nov Bon Appetit magazine, we fixed a wintery meal comprising a harvest soup courtesy of Brian Gardiner (butternut squash, chicken broth, dash of habanero jelly); roasted root vegetables (beets, turnips, potatoes, carrots, onions); arugula, pear, pecan salad with maple infused vinaigrette; steamed asparagus, and chateaubriand with a pomegranate glaze prepared as follows:
Steak: fresh rosemary from the garden, chopped finely and pressed into meat with cracked pepper and kosher salt. Pan fry in iron skillet (can add a little olive oil to pan) until medium rare (about 5 min per side); remove to platter and cover.
Glaze: 1 cup freshly squeezed pomegranate juice (select Wonderful variety), 4 tsp light brown sugar, 2 tsp balsamic vinegar. Stir into steak pan, reduce to 1/4 cup.
Serve: slice meat into strips, arrange on plates (or platter), drizzle on glaze.
Enjoy with: 2006 Caymus Special Reserve Cabernet Sauvignon (decanted).
December 12th, 2009
Written by:
Bill
Published on December 12th, 2009 @ 10:23:21 pm , using 171 words, 260 views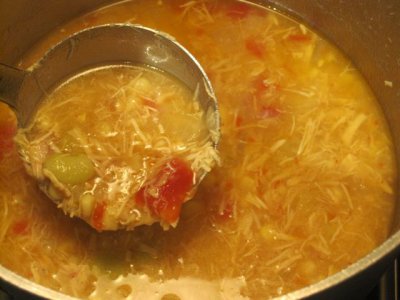 I guess I don't have to wait for a "gourmet" episode in the kitchen to tout a delicious meal. Tonight we had an all-time favorite comfort food --- Brunswick Stew. The origin of this dish is widely debated, but I tend to believe it came from Brunswick County, North Carolina. The traditional recipe calls for squirrel and rabbit, and probably whatever game happened to be in the bag. We use poultry from Sonoma County and that works fine. The recipe is simple:
Ingredients:
- whole chicken, cut into parts
- 2 onions, chopped
- 1 lb bag frozen lima beans
- 2 lb frozen petite corn
- 1 can diced tomatoes
- 8 peeled and diced potatoes
- 1 tsp sugar
- cayenne pepper
- salt, as needed
- fresh habaņeros for garnish (optional)
Boil chicken with 2 tsp salt in water for 40 minutes; remove meat from bones and set aside. Skim fat off broth. Put all other ingredients into broth and boil (covered) gently for 30 minutes. Mash potatoes at bottom of pot to thicken broth. Add chicken meat and boil 10 minutes uncovered. Add cayenne, more salt if needed.

Permalink
2 comments »